We run the in-person User Experience and User Interface Design Bootcamp since 2018 and all these years have been thinking about the best way to bring it to online to make available for students who can't come to Barcelona and take it on campus.
There are many things about this course which are difficult or impossible to recreate in the online format for sure.
One of them is group collaboration, working with other student on the group project, brainstorming, discussing – it can be done online but it will not be as efficient and productive as being in the same room.
Another obstacle was user testing which we do with actual users inviting them to school or going out to reach them. They are live people doing testing of our student's designs with mentors supervision. This is so valuable and can't be overestimated.
But eventually with people keep asking about online UX bootcamp and after lots of consideration we are finally ready to do it!
Behold, the UX/UI Design Online 1:1 Mentored Bootcamp.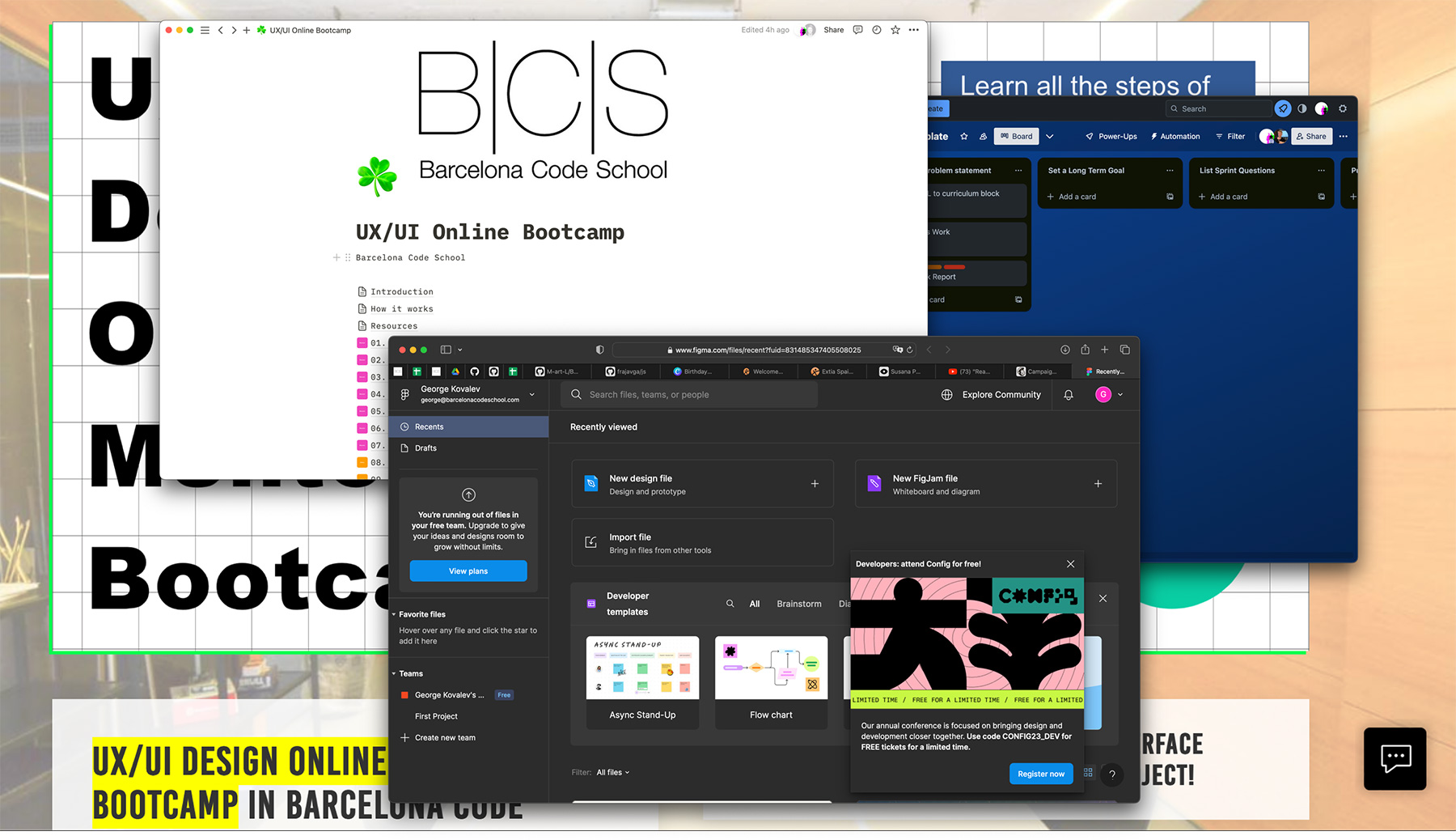 So, what is this course? Well, our solution to the problem was to make it a guided 1:1 UX Design course which will take a student through each and every step of working on one project under mentor's supervision.
This course consists of around 25 steps and each step is a separate step in the process. It contains materials, task and student's submitted work. This work is validated by a mentor, and student gets the feedback. Iterating over the step again if needed and proceeding to the next step. The final step is a prototype.
Together, a student and a mentor, first of all will agree on the idea of the project during their first video session.
After that student proceeds to the first topic, reads the materials, understands the task, solves it and sends to the mentor. They set up a new video call. The student's work is reviewed, feedback is given and student can proceed to the next task. And so on, until the successful completion of the project.
Outcomes? Student completed all the steps of UX and UI process and created their first project – a complete case study with a prototype done. By going through the process student will understand what it's like and will be able to do it again on their own.
What is the workflow?
1: Sign up online.
2: Get the pre-course.
3: Start the course once you are ready.
4: Book the first video call to get explanations of the tools, materials and decide on the project.
5: Start with task 1 out of 25. Read materials, see examples, see the task, complete the task, submit it.
6: Book video call #2 to get review and feedback.
7: Move to task #2. Repeat the steps from #5.
8: In this way progress through the curriculum and complete the project.
9: Get the final project reviewed.
10: Graduate and get the certificate 🥳🎉🎊
What are the pros and cons compare to the in-person UX/UI Design Online 1:1 Mentored Bootcamp?
Pros:
can be taken part-time and remotely
flexible schedule, you can go as fast or slow as you want by completing the tasks, there is no time limit
1:1 mentoring, you meet your instructor as often as needed by completing the tasks
"light" mode, very suitable for students learning UX as an extra skill, for example developers, project managers, product owners, visual and graphic designers
with this said it is also totally suitable as a starting point to continue practicing and learning to expand your portfolio and eventually apply for a job
lower tuition than in-person bootcamp
Cons:
no teamwork and group interaction
you are responsible for finding users for user testing
needs more self-discipline to keep learning
And that's probably all we can think of for now...